How to Choose the Perfect Wall Clock for Every Space
How to Choose the Perfect Wall Clock for Every Space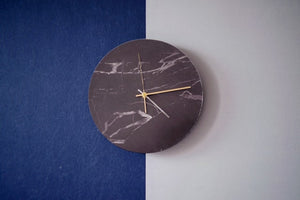 Clocks are functional timepieces, but they also perform as decorative features that enhance our room's decor. These days, we can find wall clocks in nearly any style – traditional, retro, industrial, kitschy, contemporary, and eclectic. There are also many different types of clocks available today, giving us a choice regarding how we want to display and use them.
When choosing a wall clock for any room or multiple rooms of your home, you may want to pick one out to be the central decorative feature of a wall. After all, you're going to look at the clock daily, so why not choose one that defines your room's style? With so many clocks available in the marketplace today, you can select virtually any type, style, size, and color. Here, we'll explore how to select a clock that's sure to complement your home's decor.
What Makes a Wall Clock a Terrific Piece of Decor?
From sundials, hourglasses, grandfathers, and atomic clocks, the history of timekeeping is roughly as old as civilization. The first mechanical clocks date to approximately the year 1300, while pendulum clocks were first invented in 1656. By this time, accurate timekeeping clocks began to be produced in greater numbers, and it was a mark of prestige to own one. They were often displayed in a prominent location, such as on a mantle.
Since that time, many people still choose to display a clock prominently in multiple home rooms such as their kitchen and living room. Clocks like grandfather clocks are full-fledged furnishings, often installed in a place of honor in the home. We add clocks to our kitchen walls, living rooms, bedrooms, dens, and offices. It seems that clocks are perfectly at home in just about any room.
What makes a clock a great piece of decor comes down to its design, style, colors, and even its constructed materials. Some of the most whimsical clock designs date to the Mid-Century Modern era and feature sunburst or space-age designs that are highly collectible today. Fortunately, there are many clocks available today that feature replicated styles so that we can enjoy their look without the high price. The right clock for your wall or interior space can make your setting pop. Let's explore how to choose the ideal clock for your home.
What Are Some Popular Clock Types?
When shopping for clocks for your home, you're sure to come across many different types. You may even want to select a specific clock for your home because of its functionality or accuracy in timekeeping. What kind of clock might you prefer? Here are some styles to consider:
Analog Clocks
An analog clock has moving hands that keep time against the backdrop of a traditional clock face. It may keep seconds as well as hours and minutes. Many of us remember analog clocks in every school classroom and learned how to read them by about the age of seven or eight. It might feature standard numbers or even Roman numerals.
Digital Clocks
Digital clocks display the time digitally. They do not display the traditional clock face with numbers; they simply show the time with digital numerals. We don't see any movement other than when the time changes minute to minute.
Atomic Clocks
Atomic clocks are regarded today as among the most accurate clocks. An atomic or molecular system governs the clock by vibrations. The mechanism's function depends on electromagnetic radiation complemented by the activity of certain atoms contained in the system.
Smart Clocks
A smart clock is a digital clock, but with more functionality that includes at least one smart feature. For instance, you might be able to command it to set an alarm simply using your voice. You might be able to ask for the time in a different time zone around the world from the one you're living in.
Choosing a Clock by Size
Ideally, you'll want to consider where you want to place a clock before you purchase one. That way, you can choose a clock by size. You can literally find wall clocks that are as tall and wide as a recliner. You can also find tiny wall clocks that are no bigger than the palm of your hand. When choosing one, you might want to think about visibility. Do you expect to be able to see the clock and tell the time from across the room? Do you have a particular niche in mind for a small decorative clock such as your mantle or nightstand?
Choosing Clocks by Style
The sheer variety of clock styles today is astounding. Those 17th-century admirers of the earliest clocks wouldn't believe their eyes! There are clocks mounted on teapots, clocks mounted on hooks, clocks set in square shapes, and clocks reflective of nearly every modern decorative style since those earliest 17th-century clocks.
When shopping for clocks by style, think about your room and its decorative style. It makes sense to choose a model that will complement or pair easily with your decor. When it comes to style, clocks have a personality all their own. You'll find novelty clocks that are great for recreational spaces or kids' rooms. There are formal clocks that are ideal for living rooms. The best thing to do is start acquainting yourself with the sheer variety available today and search for clocks in your favorite decorative styles.
Choosing Clocks by Color
Just as there are clocks in a wide array of styles, there are also clocks that reflect nearly every color imaginable. If you want your wall clock to pop with attention-getting flair, choose one that provides some color contrast with your wall paint or wallpaper colors. It may be helpful to select a clock in one of your room's accent colors so that it matches the colors of your rug or throw pillows. You can also find clocks in neutral shades and clocks that boast many different colors and even patterns like stripes or floral accents.
Choosing Clocks by Materials of Construction
Today, it's easy to shop for clocks by the materials they are constructed of. Material choice can complement the style of your decor too. For instance, if your space features an industrial-chic aesthetic, you might shop for a clock made from metal or reclaimed wood. If your decor is traditional, you might want a clock that features finished wood and glass. Fortunately, you'll have many different options that range from wood and metal to plastic and ceramic.
Functionality vs. Decorative Style
Clocks are decidedly functional, but that doesn't preclude you from choosing one with decorative panache. Of course, digital and smart clocks tend to be the least decoratively diverse. These styles are more purely functional and may even display the date and day's weather forecast. They also offer terrific functionality like alarm settings that you may not be able to do without. In such cases, why not opt for small digital clocks for your nightstand and opt for more decorative models for the walls? 
Clock Placement Ideas
Just as there are many types of clocks, there are many ways to place and display them. Wall clocks are ideal because they don't take up floor or table space. They can usually be viewed from some distance too, which makes them a convenient option. When you place your clock, you'll need to consider such things as:
-Room selection
-Choosing the right height (hanging your wall clock at eye level is a rule of thumb)
-In a place of prominence (at least somewhere uncrowded so it can be easily viewed)
-According to scale (a small clock perched above an overstuffed sofa might look off)
If you aren't sure, create a DIY clock out of paper and play with hanging it at different heights. This will help you select the ideal size clock for a unique area of your home when you go shopping.
Pro Tips to Choose and Care for Your Clocks
Consider these additional tips for caring for your clocks or featuring them in your decor.
Cleaning Considerations
It's essential to clean your clock carefully and in accordance with the manufacturer's instructions. Harsh chemical cleaners, for instance, can damage a plastic surface or mar its color. If you have an antique clock made with brass, you may even prefer to hire a professional to tackle this job.
Take Furnishings into Account
When choosing a clock, you can base your decision on its style by choosing one in the same fashion as your furniture. Many furnishing designers also design decorative accents, including clocks.
Hang Your Wall Clock Carefully
Even if your clock is lightweight, it makes sense to find a wall stud to nail or screw it into. Anyone might nudge the clock, accidentally knocking it. Be sure that its placement is sturdy.
Use these tips to select the ideal clocks for your home. The most difficult challenge you'll probably face is making a selection considering all the fantastic styles sold today. Another key to choosing the ideal one is to select a model you won't mind viewing each day because you're sure to look at it all the time!
Originally posted in Porch.com
---
Sign up and get access to exclusive deals, subscriber only offers and much more!