4 Cool Father's Day Gifts to Get at Contempo
4 Cool Father's Day Gifts to Get at Contempo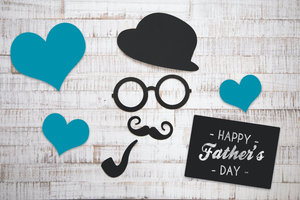 With Father's Day fast approaching, you're probably wondering what to get your dad (don't forget grandad!) or husband to make the day special. But what do you get for the man who has everything? 
Contempo has you covered with another gift shopping guide — this one curated with Father's Day gifts the old man will enjoy.
Check out Our Guide on the Best Online Gifts to Send While Social Distancing
1. Lucky Sixpences
"Best Dad Ever" Tartan Lucky Sixpence (£10.00)
This lucky sixpence is set against a tartan background and bordered by a wood cutout with the words "Best Dad Ever". Sure, it's cheesy, but we bet it's going to bring a smile to his face. This uniquely Scottish gift item also has a version for grandad — the perfect pick-me-up after months of social distancing. 
"Best Grandad" Tartan Lucky Sixpence (£10)
Each tartan lucky sixpence is lovingly made by hand in Scotland, so no two pieces will be completely alike.
Check out the "Best Dad Ever" and "Best Grandad"  tartan lucky sixpences at Contempo.
2. Twin Glencairn Whisky Glass and Water Jug Set
Twin Glencairn Whisky Glass and Water Jug Set (£59.00)
The perfect gift for the whisky lovers in your life, our twin Glencairn whisky glass and water jug sets are sure to warm your dad's heart. 
Each whisky set is made by hand in Scotland and comes with a jug and two Glencairn whisky glasses. The accompanying wood stand comes from an upcycled stave sourced from a whisky barrel. Together, these pieces offer a cool way to enjoy a glass of scotch with your father. 
The twin Glencairn whisky glass and water jug set ships FREE at Contempo.
3. Harris Tweed Wall Clock
This Scottish-inspired gift (you'll notice a theme here) is handcrafted from an upcycled oak whisky barrel and finished with a genuine Harris Tweed backing. The clock hands come with a gold finish — the perfect accent for this interesting focal piece that goes well on any wall. 
Order the Harris Tweed wall clock and get FREE shipping at Contempo.
4. Beer Candles
Torched Products Beer-scented Candles (£14.99)
Have your dad or husband's study or man cave smelling like a high-quality draught, stout or ale with this unique collection of beer-scented candles from Torched Products. Each candle, made from soy wax, comes in an amber bottle roughly the same size as an 8 oz beer bottle and cut at a 20-degree angle for that rugged charm. Choose from four fragrances:
Barrel-Aged Brown Ale

Blackforest Lager

Blood Orange IPA

Citronella Saison.
Get the Torched Products beer-scented candles at Contempo. 
Shop Online for Handpicked Father's Day Gifts at Contempo
Spoil dad on Father's Day with a sweet surprise from the Contempo collection. We take pride in curating a variety of quirky gift items, greeting cards, homeware and fashion accessories, ensuring there's always something for everyone. 
Explore our collection of handpicked gifts for Father's Day and other special occasions, and get free shipping on orders over £40. You can also request to have your purchase gift-wrapped for a small fee.
---
Sign up and get access to exclusive deals, subscriber only offers and much more!