Spruce Up Your Home this Spring with These 5 Brilliant Gift Shop Finds
Spruce Up Your Home this Spring with These 5 Brilliant Gift Shop Finds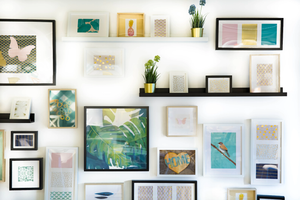 Warmer temperatures are finally setting in, marking the first vestiges of spring (yay!). With so many of us spending most of our time at home due to lockdown, it's safe to say that we're not alone in wanting to spruce things up. After all, spring is a time for new life and new beginnings, and what better way to breathe new life into your home. 
So, while planning your spring cleaning checklist, why not throw in a bit of redecorating? We've got you covered with this list of brilliant gift shop finds that you can add to your home or gift to your loved ones. 
1. Whisky Barrel Stave Wall Clock With Harris Tweed
Whisky Barrel Stave Wall Clock with Harris Tweed (£89.00)
Upcycled wood from a whisky cask and authentic Harris Tweed — it doesn't get more Scottish than that. 
Made by hand in Scotland using wood from authentic oak whisky barrels, our stave wall clocks make for fantastic focal pieces and conversation starters in your home. The clock face's gold hands are mounted onto a Harris Tweed backing, creating a piece that adds a rustic touch to any living space. 
Order the Whisky Barrel Stave Wall Clock with Harris Tweed at Contempo to get free shipping.
2. Vegan Suede Cushions from Katherine Williams
Splatter Rainbow Giraffe Cushion (£30)
Made from cruelty-free faux suede, these lovely cushions feature the splatter-style illustrations of British watercolour artist Katherine Williams. If you have minimalist décor, these cushions are the perfect way to bring a pop of colour and cheer to your home.
Splatter Highland Cow Vegan Suede Cushion (£30
Choose from a wide range of colourful designs, from highland cows to giraffes to foxes and deer. These cushions come in standard (45cm x 45cm ) and giant (95cm x 95) sizes — ideal for chairs, beds, sofas or bean bags.
Explore our collection of Katherine Williams cushions at Contempo.
3. East of India Coaster Set
East of India Coaster Set (£6.95)
Say goodbye to water rings with this wooden coaster set from East of India. This four-piece coaster set features a geometric design and comes in three colours: grey, navy, and natural brown. Each set is tied with natural jute string and comes with a little wooden tag — perfect as a housewarming gift.
Get the East of India Coaster Set at Contempo.
4. Frosted Glass Scottish Thistle Tea-Light Candle Holder
Frosted Glass Scottish Thistle Tea-Light Candle Holder (£34)
Made by hand using an upcycled stave from a genuine oak whisky cask, these tea-light candle holders are all about that rustic, cottagecore aesthetic. The stave is sanded to a smooth finish and holds a crescent-shaped piece of frosted glass to diffuse the light from the votive candle. 
Each glass tea-light holder comes from a unique piece of wood, so no two will be exactly the same. 
Order the Frosted Glass Scottish Thistle Tea-Light Candle Holder at Contempo.
5. Sue Gardner Art Prints
Rustic Cairn Scottie Dog Art Print (£17)
Hanging new wall art is a simple way to add colour to any room in your home. Be sure to check out our collection of Kat Baxter art prints, which feature the Dundee-based artist's signature style of watercolour illustrations that are sure to delight animal and nature lovers. Available in A4 and A3 sizes, our Kat Baxter art prints are ready to frame and won't look out of place in any home. 
Shop Online for Home Decorations at Contempo
Whether you're looking for spring décor ideas or want to send homeware gifts to your loved ones, Contempo has something for everyone. Explore our handpicked collection of artwork and home and garden gifts to discover what we have to offer. Order now and get free shipping on orders over £40 and gift wrapping for an additional £3.00.
---
Sign up and get access to exclusive deals, subscriber only offers and much more!