A Contempo Guide to Our Best Online Gifts to Send While Social Distancing
A Contempo Guide to Our Best Online Gifts to Send While Social Distancing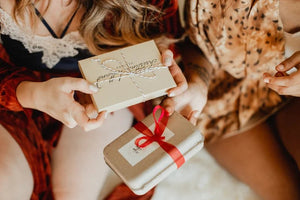 As lockdown protocols keep many of us away from family and friends, we've had to deal with social distancing during special occasions with Zoom calls and meaningful gifts. In these strange times, every little gesture we can make for our loved ones goes a long way towards making them feel closer.
On that note, we've put together a list of brilliant gift shop finds and greeting cards from our collection to make someone's day while being socially distanced. 
1. Lucky Sixpences
Tartan Heart Lucky Sixpence (£10)
Traditionally, the sixpence coin is considered a token of luck and good fortune. We have a selection of lucky sixpence coins at the centre of a laser-etched, hanging wood and tartan charm. 
Each wood cutout features a tartan fabric background and comes in versions for different occasions and recipients, from grandmas and grandpas to siblings and children. Our sixpence charms also come in different shapes such as a rose, butterfly and bird.
"Best Grandad" Tartan Lucky Sixpence (£10)
Each lucky sixpence is hand finished, so no two will be exactly the same.
2. Tongue-in-Cheek Greeting Cards for All Ages
"Your Fifties" Birthday Card (£3)
We all have that friend who dreads getting older with each passing year. And what kind of friend would you be if you let it happen without rubbing it in? 
To mark the occasion, get one of our funky and playful birthday cards for family and friends turning 30 and 40, as well as those enjoying life in their 50s, 60s, and 70s. After all, we're all going to get old — might as well have a good laugh out of it.
Each card is made from 100% recycled Kraft paper (so you're doing right by the environment) and comes with a matching colourful envelope. 
3. 'A Bad Hair Day' Highland Cow Art Print
We've said it before and we'll say it again  — we're unabashedly unashamed about including a highland cow-themed item in all of our gift guides. This art print from homegrown British artist Adam Barsby features his signature "A Bad Hair Day" illustration — a modern and charming take on the highland cow. It's perfect for anyone moving into a new home or someone looking to decorate this spring. 
4. Bags and Clutches from East of India, Katie Loxton and More
Katie Loxton Perfect Pouch "Hello Lovely" (£14.99)

For bag lovers, we offer a variety of clutches, purses, backpacks and weekend bags from brands like Katie Loxton, Earth Squared, Snowpaw and Harris Tweed, among others.
Harris Tweed Satchel / Handbag (£45)
Shop Online for Handpicked Gifts at Contempo
Even if we can't be with our family and friends on their birthday, Christmas, or anniversary, we can certainly make it up to them with a thoughtful gift. Be sure to explore our gift collection to discover handpicked gifts for all occasions. 
For an extra £3.00, we will wrap your purchase for you and send it to your loved one's address. Get free shipping on orders over £40.  
---
Sign up and get access to exclusive deals, subscriber only offers and much more!