Our guide to the top Scottish gifts for men
Our guide to the top Scottish gifts for men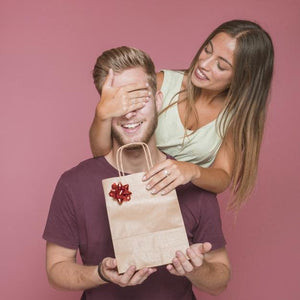 Our guide to finding the perfect gift for the man in your life including our top seven favourite picks.
We know the problem well, be it your dad, husband, boyfriend or grandad, the man in your life is probably the hardest person to find the perfect gift for. Sure, last year you got him a nice pair of slippers and for his birthday you managed to find him a pair of cufflinks you thought he would love. But you are yet to see him use either and you have a sneaky suspicion you might have got it wrong. Fear not, our team are experts in gift-giving and we are here to help with our guide to the best Scottish gift for men.
Here at Contempo, we pride ourselves on our wide range of traditional, modern and funky gifts. We offer a selection of products from local craftsmen to exclusive artwork. If you are looking for some inspiration and ideas on what to buy that special guy in your life, then you are in the right place! So sit back, grab a coffee and let us do all the hard work for you!
The first thing to consider when buying a gift is his personality. Even if you don't know him that well, maybe you got him for secret Santa this year? Don't fear you will still have an idea of his personality type. Is he the lad type or a more refined gentleman? Is he sporty or more of a couch potato? Does he love a bit of banter or is he more reserved? Now with this in mind take a look down our gift guide. No matter who he is we have got the perfect gift for him.
For the man who loves to be the centre of attention
Now you might be thinking to yourself that in the past you have gone with the age-old favourite of socks and wonder why we would recommend these. Let us tell you what makes these socks so special and why he is going to love our Soulmate Socks.
Our Water lily socks are designed to ensure he has less stress in his life by making odd socks fashionable. Gone are the days when he has had to hunt to find a matching pair of socks! 
The idea is simple and has a touch of romance. That each sock, although unique in its own right, is part of a perfect pair, a couple that is similar but different. Each the soulmate of the other.
With these bright and trendy socks, he can confidently march out the door in a funky style and ladies as these socks are unisex you should feel free to pinch them when he's not looking.

For the man who loves a wee dram
Twin Whisky Glass & Water Jug Set
If you know someone who might be looking to take their whisky drinking experience to the next level, then why not treat them to this beautiful hand-crafter Whisky Glass Gift Set. It comes complete with two Glencairn Whisky Glasses, that the Whisky connoisseur will be familiar with. Each of these glasses has been specifically designed and made to enhance the drinking experience, specifically the traditional nosing technique. The set also comes with a water jug that sits perfectly in the middle which is a delight for those like myself who love symmetry.
Not only is this a beautiful set, but there is a special feature that he is going to love. The base of each set has been carefully made from an old scotch whisky barrel and finished with genuine Harris Tweed for the glasses to sit upon. As each whisky barrel is different your set will be unique and sure to be treasured for years to come.
With this book of great whiskies, your loved one is sure to be brimming with all the great whisky knowledge they have he will pick up from this book. This beautifully presented book features 500 of the best whiskies from around the world. It is packed full of knowledge from distillery to tasting notes which the whisky lover in him is sure to devour. Even better than reading about the dram he is sure to want to have a tipple himself and what better way to spend his evenings than sampling his way through all 500. 
This book features all you need to know about the aromas and comparisons of different whiskies. It is the ideal gift for whisky lovers from those who are new to the world of whisky to the whisky connoisseur who knows his stuff.
For the man who likes things out of the ordinary
You can't really go wrong with gifts of chocolate but that doesn't mean it needs to be boring. Why not liven it up and give him something he definitely will not be expecting by gifting him the Scottish favourite, Haggis, in a chocolatey form.
Now we know what you're thinking. We thought the same, surely haggis and chocolate are two flavours that don't go well together, but let us assure you, he is in for a treat. The chocolate gives this bar a sweetness while the spices used in a traditional haggis recipe give it a little bit of a spicy kick.
Even if he is not a chocolate lover, he is sure to get a kick out of our haggis chocolate that makes the perfect gift for any occasion including those hard to buy for Secret Santa's.
For the man who is sentimental
Upcycled Whisky Barrel Bilge Frame
One thing you just can't buy is a memory, however, you can buy this upcycled whisky barrel photo frame which holds a "4x6" photo and allows you to cherish those memories in a beautifully presented hand-crafted photo frame. If you want to touch the heartstrings of your loved ones then this is the gift to give.
Made from a genuine upcycled whisky barrel and finished with genuine Harris Tweed, each frame comes with a number on the back and a link to a website where the origins of your frame can be viewed. For an added special touch, you could gift the frame along with a bottle of the same whisky in which his whisky frame would have been stored.
One of the greatest gifts you can give to anyone is something that sparks emotion If you have shared a special moment with the person you plan on buying this for it is a great way to put a captured moment and make it even more special for your loved one. Thinking outside the box if you are buying this for a dad why not have their child to draw them a picture or write a message and framing it to create endless smiles and memories wherever it is placed.
For the man who loves a Highland Cow
There are countless ways to make a mess and ruin things but one of the most common ways are cup stains. We are all guilty of it... placing that cup of tea or coffee down on a piece of furniture and removing it to see those dreaded stained rings. The answer is simple, coasters, but that doesn't mean that they need to be boring.
Our Highland Cow coasters feature a very high-quality print of a highland cow which was designed by artist Olivia Hicks. Not only are our coasters functional but they are a beautiful piece of hidden art which can be displayed for guests to enjoy or to simply brighten up his morning. These are especially good if you are sending them for gifts abroad as it makes for a fun interior design add on with a lot of Scottish history surrounding it.
These keyrings are designed and made here in Scotland for all to love. These have been carefully crafted by some experts who wanted to mimic the feeling of the cow's rough coat which they have been able to achieve using mohair. This is perfect for keeping your keys safe and secure and it's something for your loved ones to show off when car sharing with their colleagues.
We hope you have been able to find something here. This is just a small selection of our extensive Scottish gifts range. For more items a wider selection of gifts like these you can visit us in-store at 19 King Street Stirling or check our website at www.contempoonline.co.uk.
---
Sign up and get access to exclusive deals, subscriber only offers and much more!