Behind the Scenes: Christmas Window Display
Behind the Scenes: Christmas Window Display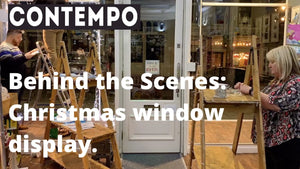 Behind the scenes: Putting together our Christmas window display.
Video Highlights:
0:05 It's Christmas
0:18 Putting together our window display
0:50 All finished
1:10 The window from outside
1:45 Bloopers
2:02 End titles
Transcript
Craig: Hi there, it's Craig from Contempo in Stirling www.contempoonline.co.uk and it's Christmas! Cue the Christmas music.
So, it's not actually Christmas it is the 10thof November and at the minute we are putting in our Christmas window display. We thought you would like to see a little bit of behind the scenes footage of us putting the display together.
So that is us done for this year and you can see the window behind me. I will show you some pictures of the window in a second. We had just one injury a bleeding thumb and that's it and that is good for us.
If you like what you see visit us, if you're in Stirling you can find us on King Street in Stirling, if not you can get us online at www.contempoonline.co.uk. We hope you have a nice Christmas when it comes.
---
Sign up and get access to exclusive deals, subscriber only offers and much more!