Our top picks from our Lucky Sixpences range
Our top picks from our Lucky Sixpences range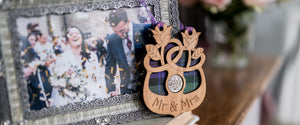 If 2020 and early 2021 has taught us anything it is that we could all do with a little bit of luck in our lives! We're not saying they will bring you luck, but our lucky sixpences have a lovely, thoughtful sentiment to them that make them ideal gifts to give.
The tradition of giving a lucky 'silver' sixpence as a gift goes back quite a few decades and you have probably taken part in this tradition without even realising it - if you have ever bit into a Christmas pudding and been lucky enough to find a coin in your desert then you know what we mean.
Another way they were used was in a brides shoe. The bride would place the coin in the sole and walk down the aisle to bring good fortune to both her and the groom for their new life together.
It's great to see the tradition of gifting lucky sixpences as popular today as it has ever been. No matter the occasion they make great gifts. Still not sure? Let us take you through our top picks.
1. Wedding Anniversaries
Wedding Anniversary Lucky Sixpence (£10)
Especially good for the 5th anniversary (wood) but a thoughtful gift for the happy couple. It has two intertwined hearts and the words "on your anniversary" written across the front. 
2. New Baby
Lucky Sixpence Baby Boy or Girl (£10)
When a new baby arrives it can be hard to get them something a little bit different. These sixpences are inserted into the tummy of a hanging bear. He has tartan paws and is available with either "baby girl" or "baby boy" written across the front.
3. Weddings
Taking the lucky silver coin back to its roots, where it would have been traditionally worn in the sole of a brides shoe, our wedding luck sixpences are always a hit. A great gift to give the lucky couple on their big day we have a few different designs for you to choose from so there is sure to be one they will love.
4. Birthdays
Happy Birthday Lucky Sixpence (£10)
Never a year goes by without you having to buy at least one birthday present, even if you are just treating yourself. 
Shop Lucky Sixpence Gifts at Contempo
The lucky sixpences are one of the most versatile gifts you can give, there are very few occasions where there isn't at least one that is suitable. We stock a wide range of designs so there's lots from which to choose. You can find our entire range of lucky sixpences online. 
---
Sign up and get access to exclusive deals, subscriber only offers and much more!