Featured Artist of the Month: Adam Barsby
Featured Artist of the Month: Adam Barsby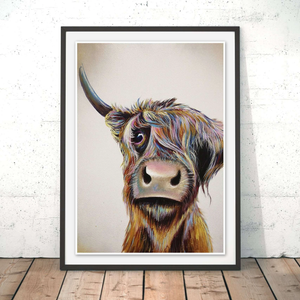 Order the 'A Bad Hair Day' Highland Cow Art Print at Contempo
Contempo is proud to carry an assortment of art pieces, homeware, and adorable bric-a-brac from some of the UK's most exciting artists. Whether you're buying a gift for a loved one or looking to add a pop of colour to your home, you won't go wrong with a piece from our Artwork collection. 
For this month, we're shining the spotlight on award-winning illustrator Adam Barsby.
Meet Adam Barsby
Source: Adam Barsby Artist - Facebook
Born in Leicester in 1969, Adam Barsby grew up alongside five siblings and had an eye on the arts from an early age. He would watch his father build model aircraft in their garden shed and was taught by his mother to visualise how a piece would look before working on it. 
In 1996, Adam graduated with a first-class honours degree in Illustration at The Kent Institute of Art and Design. He would then go on to begin a prolific career as a freelance illustrator, collaborating with several galleries around London, allowing him to grasp the business side of the art world. 
Since going fully professional, Adam has won multiple awards, including three nominations for "Best Published Artist," "Best Up and Coming Artist" in 1999 and "Best Selling Artist of the Year" in 2000. 
Adam's signature work includes his "Bad Hair Day" illustrations, which feature a fun and vibrant portrait of a highland cow that can now be found on all kinds of gift items, prints and canvases — the perfect housewarming present or addition to your home. 
Source: Adam Barsby Artist - Facebook
More recently, Adam has ventured into new styles, focusing on art depicting everyday scenes of his childhood in Leicester in the 1970s and 1980s. Today, his work features charming landscapes of the English countryside featuring a lone child and canine companion.
Shop Adam Barsby Pieces at Contempo
Explore our collection of artwork and memorabilia from Adam Barsby at Contempo! Find great deals on cool prints and quirky homeware, from bone china mugs and cushions to canvas, clocks and more. 
As a proud supporter of the arts, Contempo is always looking for opportunities to expand our handpicked collection of prints, canvases and illustrations. Be sure to check our artwork collection regularly for new additions from other British artists.
Explore our Adam Barsby collection today and get free standard delivery on orders over £40.00.
---
Sign up and get access to exclusive deals, subscriber only offers and much more!