Product Feature: Yer Da Sells Avon T-Shirt
Product Feature: Yer Da Sells Avon T-Shirt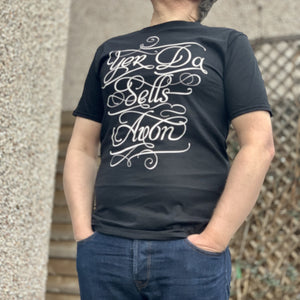 One of my favourites, and definately a customer favourite is our "Yer Da Sells Avon" T-Shirt. For those not in the know, this is an old saying that is used in banter. I'm not too sure that young ins still say it today, but back in the day it was used as a put down to slag off your frenemies. Those of use of a certain age and from select parts of Scotland will know the saying well!
Remove the Scottish slang and put it into plain English it translates as "Ones Father is a salesman of the well known cosmetics brand, Avon". A suggestion that your dad is somehow effeminate. Of course, this is just a bit of fun and meant to be taken lighthearted with tongue in cheek. If you need any more evidence of this, then take a look at the irony, the saying is typical Scottish banter but it is designed in a victorian style calligraphy, normally reserved for sayings of grace and elequence - but not in this case.
The t-shirt is available in both black and white and in sizes from small to extra large. One thing to note is that it has been printed with a screen printing process, the ink is dyed right into the 100% cotton fabric and won't come of when washing or ironing.  
These make great gifts for guys in their late 30s upwards and instills a little bit of nostalgia taking you right back to your rebellious teenage years. 
The T-shirt is exclusive to us here at Contempo so why not grab one as a gift or treat yourself!
Currently available in Stirling and online - check it out  Yer Da Sells Avon T-Shirt
---
Sign up and get access to exclusive deals, subscriber only offers and much more!